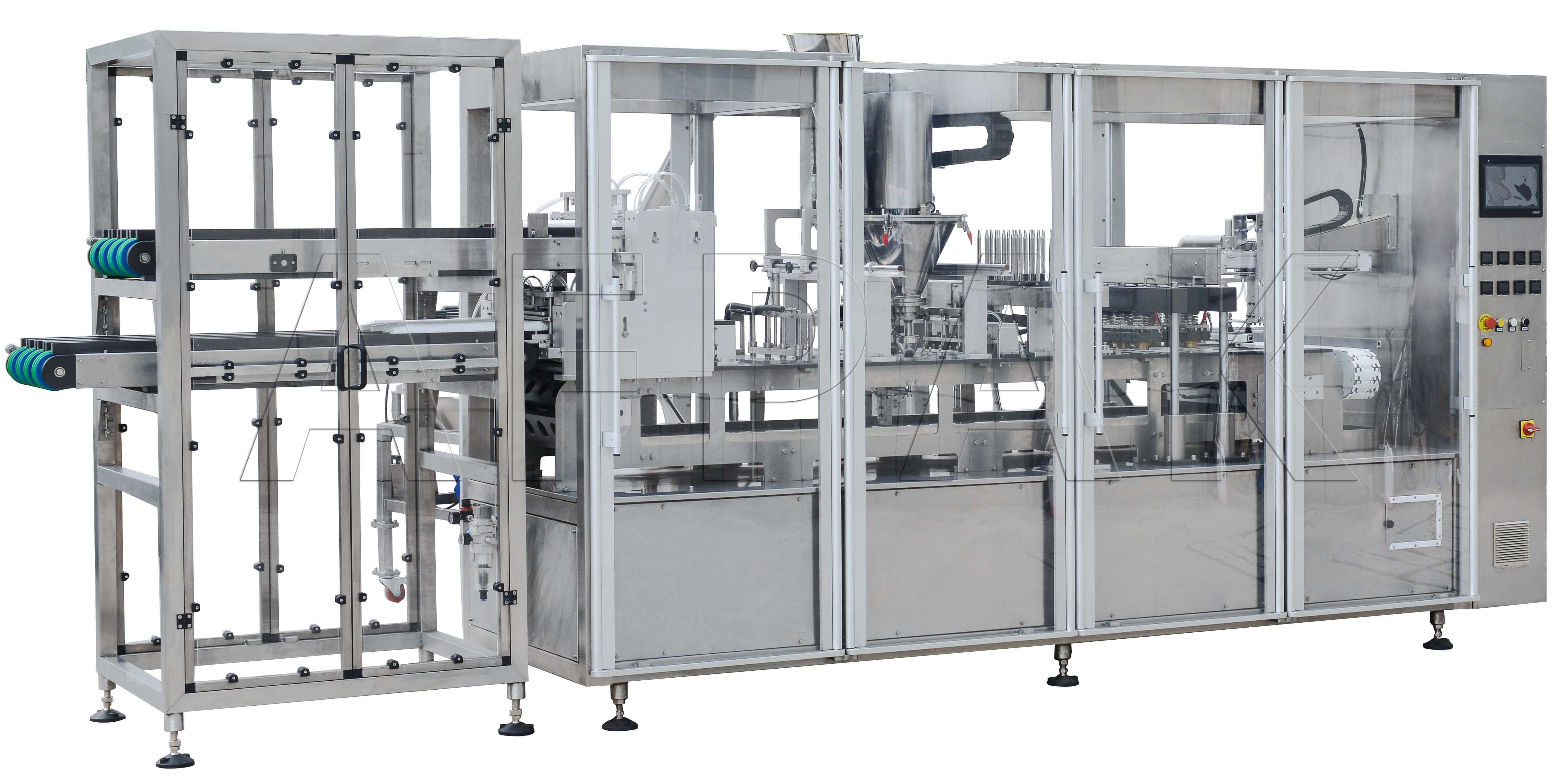 K cup filling machine
New Fully Automatic K Cup Filling Machine
Made in China. Custom-build service available.
Comparable machines sell for USD90,000- USD500,000

Very easy operation. Installation and operation training is included in the sale in USA. Remote training and technical assistance can also be provided via video conference, chat or email.
Warranty: 12 months on no wearable parts, software and electronics.
AFPAK will also provide supplies to produce 10,000 k-cups: cups, filter cups and aluminum lids compatible with Keurig 2.0. A $1000+ worth of supplies.
AFPAK Provide One stop packing solutions, you can also buy empty K cups, aluminum 2.0 compatible foil, and other machines here. Welcome to contact us for more detaisl.
Compared to other regular K Cup filling machine, this is a 2 in 1 machine:
1.- High Stability: filling accuracy is stable at ±0.3g, and very stable working.
2.- It's a fully automatic filling / sealing machine. Please watch video below (Machine working on packaging mode)
Watch the videos below showing the machine working on each operation mode:
(Out cups and filter cups are separated) Separated K cup filling machine:
(paper filter is welded on cup body) Welded k cup filling machine:

AFPAK K cup filling machine standard functions:
☆Automatic drop empty k cup
☆Automatic detect whether K cup well loaded on the machine by sensor.
☆insert the fitler into K cup By Machine
☆Servo motor to fill coffee while vibrating, weight around 10g ( can be adjust)(Nitrogen flushing here)
☆Auto suck Foil Lids ( Or roll film, cutting and sealing)(Nitrogen flushing here)
☆Auto detect whether the foil lids is ready by Sensor(Nitrogen flushing here)
☆Auto Seal twice and output.


AFPAK k cup filling machine incorporates a variety of sensors that allows it to detect and smartly decide how to respond to the presence or absence of cups, lids, coffee, air pressure, temperature, position, etc.
For extensive control of any internal parameters, the machine features an easy to use touch screen interface (HMI).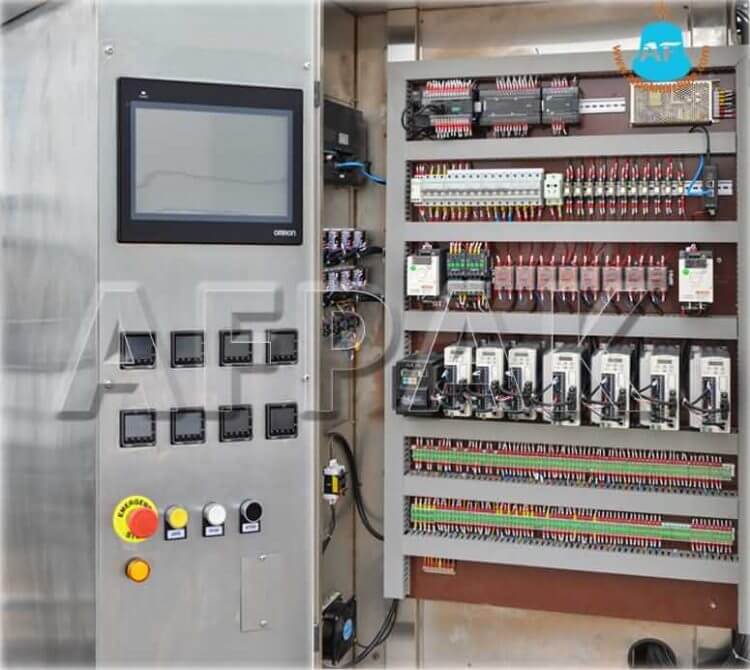 Technical Specifications:
Dosing precision: +/-0.3g
Cups: Accepts commercially available plastic cups for K-Cups polypropylene (PP) or polystyrene (PS) conical standard type.
Foil lids: Accepts heat sealable aluminum lids from 38 to 60 microns and 51mm diameter.
Filter paper: fabric material or paper material.
Sealing temperature controls: Programmable PID. The machine has two stations to control lid sealing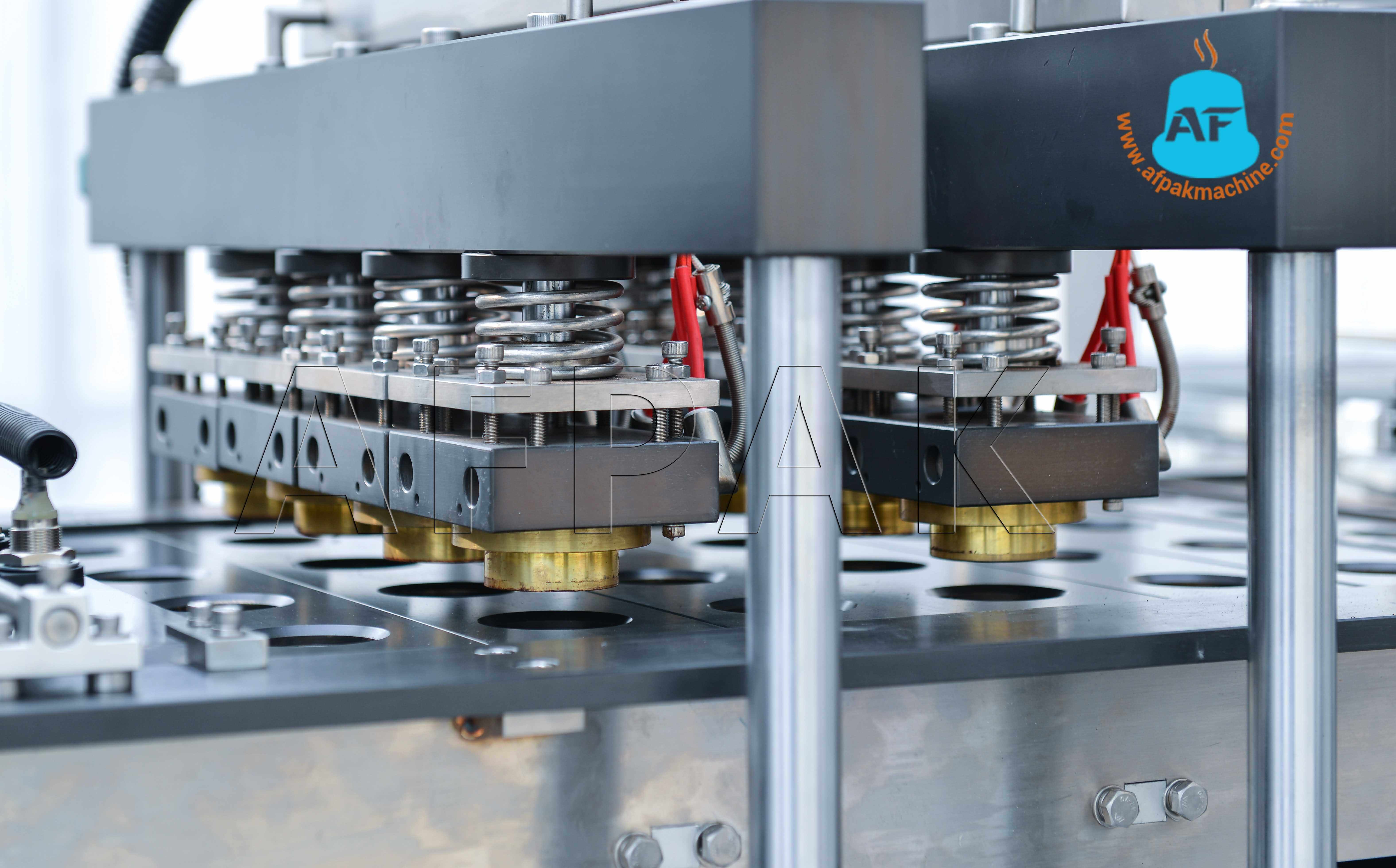 Control system: Industrial Japan PLC controller Omron. Positioning system driven by stepper motors with feedback. Touch screen (HMI) Omron. All in English language. (Also can use Allen Bradley brand parts if necessary)
Sensors: Optical, laser, thermocouples and inductive. None with mechanical contact.
FRL: Built-in air filter, regulator and lubricator.
Production speed: 1500-15000 K-cup per hour.
Operating voltage: 208/230 volts. One (1) phase. 50 / 60Hz. Power consumption: 1.2 KW-7Kw.
Compressed air: The machine requires 90 to 100 PSI (0.62 to 0.69 MPa). 5cfm.
Weight: 500 Kilos-3000 kilos
Dimension: Different machines dimensions are different.
Manufacturing: All electronic and pneumatic component brands used in the construction of this machine are highest quality name brands globally known in the industry manufactured in countries such as USA, Japan, Germany and France.
Rugged constructed to guarantee a long service life. Most of the body is built with stainless steel and food grade stainless steel (SS304) is used for all parts in contact with products.
Feel free to hit "Get Quotation", please contact us before purchasing.
If you have any questions, please don't hesitate to contact us.
Serious buyers only please. Thanks!
More? Welcome to contact us:
24 hours Service Line: 0086-18521503009 (on Whatsapp)
Email me: info@anfpak.com anf717@gmail.com
Skype: allenanf