****GOOD NEWS OF PLA coffee capsule****
We have 7 different colors of PLA Coffee capsule are available now! Small Order quantity! Welcome to choose
PLA is the material, made from natural plants like corn, beet, sugarcane and so on. It is the bio-based material and 100% biodegradable. Just because of its property of eco-friendly, non-pollution, non-toxic and safe, PLA material products are widely used in US & Europe, and all over the world. EN13432 & SGS test certification aquired.

*******************************************************
Material Introduction of Nespresso compatible biodegradable PLA coffee capsule:
1.Material:PLA(polylacti acid),extracted from cornstarch,complete biodegradation.
Released carbon dioxide and water from degradation , the natural environment will
not cause any pollution.
2.PLA(polylacti acid) is a kind of environmental protection material, non-toxic low carbon,
high temperature will not release any toxic substances, strong antibacterial. Can be recycled.
3.Can be used for composting, complete degradation cycle in 180 days. the actual size of the
product to determine the degradation cycle, the garbage after degradation can be produced
to organic fertilizer
4.AFPAK Biodegradable Coffee capsule packaging cups made from PLA material are biodegradable and non-toxic, good for the reserve of coffee powder and good for human health. The waste cups of coffee capsule will also not arouse pollution to environment
Because of its biodegradability, All healthy and eco-friendly while you enjoy the coffee.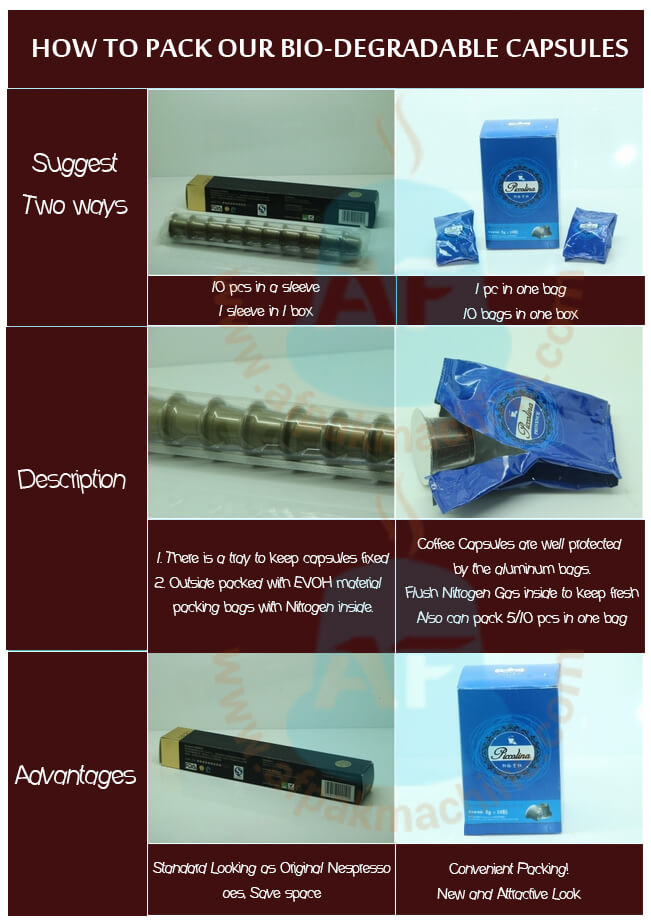 One stop coffee capsule packing solutions, only in AFPAK.
What can we offer: 1. Biodegradable coffee capsule / Normal PP MATERIAL coffee capsule
2. High quality coffee capsule filling sealing machine
3. coffee capsule Sealing lids
4. Air compressor to run the machine
5. Nitrogen Generator
6. Laser or inkjet printer
7. Bag packing machine to pack 1/10/20 capsules in one bag
and other necessary machines and materials need for coffee capsule packing
Contact us for more information:
24 hours Service Line: 0086-18521503009 (In What'sapp)
Email me: info@anfpak.com
Skype: allenanf