Nespresso Coffee Capsule Filling Sealing Machines – The Best Guide in 2023
What is the Nespresso coffee capsule filling sealing packaging machine?
The Nespresso coffee capsule filling sealing machine is a specially designed machine to fill and seal Nespresso coffee capsules, and the Nespresso packaging machine is to pack the filled and sealed Nespresso capsules into bags or boxes. It is a fully automatic electrified control, integrated with multiple functions, and can produce better Nespresso-compatible capsules
Nespresso Compatible Capsules are now the most important SKU of coffee companies.
Nespresso, as the most successful single-serve coffee package, is more and more popular in the whole world. Nespresso's patents began to expire in 2012, gradually allowing competitors to offer capsules and machines compatible with the Nespresso system.
Packaged portions of espresso coffee, like those from Nespresso, have become one of the fastest-growing segments of the coffee market.
Every year, many small to mid-sized companies are bringing novel tastes to the Nespresso coffee market.
AFPAK offers the top quality Nespresso coffee capsule filling sealing machine, Nespresso capsule filler, and Nespresso coffee capsule packing machine that will bring your company up to speed with the latest trend.
If you have any needs, please leave your contact information on the right. Please write down your requirements, output capacity, and capsule types in detail. We will provide you with the fastest and most professional response.
You will get the details you need within 4 hours
What is NESPRESSO?
Nespresso is an operating unit of Nestle food company that focuses on offering coffee makers that operate with coffee capsules or coffee pods.
If you want to prepare at home a yummy cup of coffee, this revolutionary coffee brand will surely give you comfort, a nice and easy way to make coffee.
It is located in Lausanne Switzerland, A Swiss company that is also a part of Nestle food company, produced Nespresso machines and coffee.
An original patented capsule system is used by Nespresso machines. You can produce the highest quality coffee cup with the Nespresso machines. And these machines are protected against mismanagement.
Where can you discover Nespresso Machines?
You can find Nespresso in online retail stores, e.g., Apple, Walmart, and Amazon, and in physical shops, you can also find it.
But US citizens just only heard about the Nespresso taste. Just because this brand is not as popular as Keurig's K-cups in America.
In the whole coffee industry, even in America, it has been sending shockwaves. It brought alterations in the coffee industry, not just it, it also influenced the way people starting their days and their meals too.
You can relish a Delux, luxurious coffee taste on your own without traveling or going to any coffee shop.
Is Nespresso a genuine coffee?
Absolutely, Nespresso is made by 100% real ground coffee amongst roasted coffee beans.
This means that each capsule offers you the coffee you want and love but in a more appropriate and commodious manner.
And you are just gaining appetizing and high-quality ground coffee in a capsule shape.
Why Nespresso?
Nespresso offers you a lot of benefits as it'll save you time and won't make a mess.
Nespresso's advantage is that Nespresso coffee pods are made of real coffee grounds that don't carry instant coffee. Moreover, you can have an unworried phase of any potentially harmful chemical, as there are none of the chemicals used in the Nespresso pods.
How to buy a Nespresso Machine?
1. Original or VertuoLine?
When buying a Nespresso machine, Possibly the most dominant factor to take into account is whether you want to opt for an original or a VertuoLine. Original machines use enforcement to brew true espressos but are failed to make anything else.
VertuoLine machines use "centrifugation" technology to prepare coffee by revolving the pod at a speed of 7000 revolutions per minute. They produce a greater choice of drinks, but the espressos they make are not true espressos since they are not prepared under pressure.
2. Size of Reservoir
Some Nespresso machines have more enormous reservoirs than others. The advantage of larger reservoirs is that you need to refill them less often, but one of their disadvantages is that it can also take up more space to keep them.
3. Heat Up Time and Power Saving Features
Most Nespresso machines can be ready to pour a coffee very speedily, and you should take note of how long you need to wait. Many Nespresso machines also include power-saving attributes and turn them off automatically when not in use.
4. Drink Sizes
Most original Nespresso machines only make two, espresso and lungo, while VertuoLine models offer more variety. It all depends that,
How many sizes of drinks can the machine make?
5. Extra Features or Capabilities
Some machines contain additional features like built-in frothers and so on. You should pay attention to these qualities if you want more than just espresso.
How to use a Nespresso Machine?
For using the Nespresso machine, you just need to load the capsule into the machine which you have selected. And then press the button "start" now, the machine takes a few minutes to prepare and pour the coffee into the mug.
The taste of coffee is extracted from the capsule when the hot water is passed through the capsule by a machine, and after it, the drink is poured straight into the mug. You can also choose the size of your mug, the capsule you like, and the brew of how strong it would be?
Nespresso machines also can be used to make cappuccino and lattes. There is an attachable milk steamer with some machines, or if you want to attach it, you can buy your own steamer.
Advantages of The Nespresso Machine
In many ways, the Nespresso can be perceived as the Keurig of the espresso world, and these machines have plenty in common.
Perhaps the biggest advantage of pod-based brewing systems is ease, comfort, and satisfaction. Think about preparing a coffee the conservative way and all the steps involved in the preparation of coffee.
First and foremost, you need to crush the beans completely and perfectly for the variety of coffee you are making (unless you buy pre-ground coffee), you need to set up the appliances.
Then you need to fire the water, you need to judge the dosage accordingly, you have to approximate the steeping time – and you have to clean up after
about in a minute, with a pod-based brewing system, all you do is go off in a pod and hit "brew."
And the absolute and yummy cup of your favorite drink is waiting for you.
Some coffee makers permit you to make adjustments to the magnitude or strength of your drink, but that's about it. Nothing could be manageable.
When you are brewing coffee yourself, there are many different steps that you have to get just right, which is another point to note.
We mentioned crushing, dosing, and steeping, but there are so many others.
You can end up with bad-tasting coffee.
If you commit a mistake at any of these stages.
But With a pod-based machine, this is impossible; you know that the coffee the machine produces will be great and yummy.
All you need to do is to opt for the flavor you like to drink.
Variety of flavors, that's another and best advantage that pod-based systems have over regular brewing methods.
While technically, if you brew with a traditional method, you have more choices to produce any drink you can imagine, but in reality, it doesn't always work like that.
We might be thinking or imagining making caramel macchiatos or vanilla lattes at home, but let's be truthful, how often do we really bother it?
Even if we purchase the caramel or vanilla flavorings to create them, after a few servings generally, we just fall back to the simplicity of making a regular brew.
You have a wide range of flavors available when you are buying, With pods.
And once you have them at home, making a "fancy" coffee is no more complicated than choosing the pod of that flavor or style. It becomes much easier.
So, what's the difference between Nespresso and Keurig? Well, we've already answered that.
Keurig produces structured regular Coffee while Nespresso produces espresso.
If you are an espresso fan, purchase a Nespresso; if you prefer regular, purchase a Keurig. Simple to understand.
But having said that, the new VertuoLine coffee producers can provide you the best of both worlds.
And what's the difference between a Nespresso and a regular espresso machine? Ease and comfort.
You might consider a traditional espresso machine for your home.
If you enjoy crushing, measuring, and pulling espressos like a professional barista.
And on the other hand, if you might think about investing in a Nespresso.
All you desire is a great tasting espresso every time with a minimum of fuss.
Capsule culture
Nespresso has let out lots of diverse coffee capsules that can be used with their home coffee brewing machines.
Here, that can come out with the difference between the best coffee capsules and choosing the ones that would be great, there is something of a challenge.
How Is the Coffee from Nespresso Capsules Decaffeinated?
Nespresso coffee is decaffeinated operating two different stratagems:
Water Process – Use water to separate caffeine.
Carbon Dioxide Process – Green Coffee is saturated in water, after which carbon dioxide is applied to remove caffeine.
All Nespresso decaffeinated products are assessed and must carry less than 0.1% residual caffeine.
The caffeine content is analyzed in all the coffee stages: green, roasted, and the final, finished product, to verify this condition.
Do Nespresso Capsules Contain Allergens?
Nespresso coffee capsules do not contain allergens or food preservatives, espresso coffee blends, including Vertuo variations and wide range.
The suggestion for the Variations blends is available in a very high-quality powder (encapsulated flavors).
After grinding but without any contaminants, These aromatic substances are added to the coffee.
How Do I Know If My Nespresso Capsules Have Expired?
Nespresso capsules are impervious to save the coffee from the Inside from light, humidity, and oxygen.
You will find both the production date and the expiry date.
At the base of each and every pack of Nespresso coffee, the hindmost is almost always 12 months from its development.
Although these capsules simply act as an indicator of optimal freshness, taste, and aroma, the unsealed capsules are completely safe to use after that date, since the expiration date.
If you still have capsules that you haven't used yet, don't worry about consuming them as long as they are closed.
If you feel any smell coming out from the capsule, Remember that this means that the capsule is not properly sealed or covered and should be discarded as soon as possible
Nespresso Capsules
When buying a new coffee machine, there are many doubts when thinking about the affinity or compatibility of coffee with the machine.
It's not an easy task to choose the best coffee for your taste buds.
It especially happens when you are purchasing a coffee machine, for instance, Nespresso. Just because of removing these doubts, we have prepared this informative and detailed guide and our collection of the best Nespresso capsules.
If you have a Nespresso coffee machine, but you still haven't used it because you don't know which capsule you should buy?
So here is the section below from where you can find out amongst the most popular Nespresso capsules on the market.
You can purchase Nespresso capsules from the market.
There are various kinds of Nespresso capsules.
Each of the capsules contains its own taste, intensity, and caffeine content.
The most familiar capsules you'll know about are mentioned below.
Nespresso Capsules OriginalLine – Arpeggio Intenso
The Arpeggio Intenso capsules are made from 100% Arabica coffee beans coming from Central and South America.
At the upper end of Nespresso's intensity (level 9), Arpeggio conveys an exhaustively roasted coffee blend with malty, fruity profiles.
Arpeggio beans are elegantly milling to bring out the full-bodied flavor compatible with coffee beans from Latin America.
And at last, we get the finishing result is a woody taste with subtle cocoa notes.
The Arpeggio Intenso is absolute and ideal for those wanting an intense, full-bodied coffee that is also packed with aroma and flavor.
Nespresso Capsules OriginalLine – Ristretto Intenso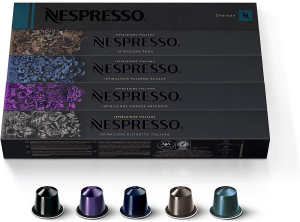 The Ristretto Intenso capsules are produced from an amalgamation of Arabica coffee beans developed by Brazil and Columbia, and East African beans. A small amount of Robusta coffee beans is put into this mixture to originate a fruity and slightly acidic note to this espresso.
At the highest Nespresso's intensity (level 9), Ristretto Intenso conveys an exhaustively roasted coffee blend with intense, chocolaty profiles.
Ristretto beans are very elegantly milling ground to originate an Italian-style brew, making this the capsule of the best choice for espresso lovers (and for those who like stronger and ideal coffees).
If you're looking for a strong, powerful, and vigorous, yet ideally balanced espresso, these Ristretto Intenso pods are the absolute and perfect choice for you.
Nespresso Capsules OriginalLine – Ethiopia Master Origin
As the name recommends, Nespresso's Master Origin Ethiopia is a one and only origin Arabica jumble from Ethiopia.
Its aromatic coffee profile indicates the region in the coffee belt.
This is no departure, featuring a soft body with light intensity (level 4) with citrusy flavors.
In our viewpoint, for those who are serious about espressos, this light-roasted mixture is most likely too fruity (we suggest picking a capsule with an intensity above 8).
But, this capsule has it all for those who like sweeter, fruity coffee.
Nespresso Capsules OriginalLine – Caramelito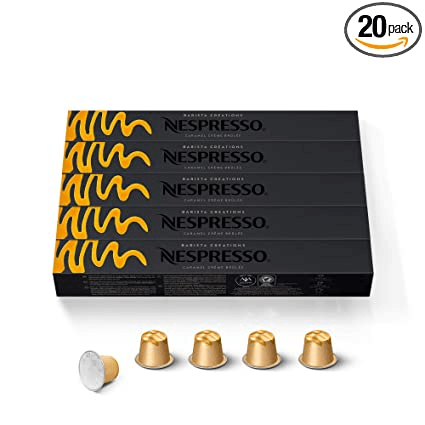 The Carmelito capsules are made from 100% Arabica coffee beans originating from Central and South America.
As you can guess from its name, the Caramelito delivers a rich, full-bodied roast with caramel block notes.
In addition, this Nespresso coffee blend is medium-roasted to bring out the malted and aromatic profiles of the coffee.
Perfect for those who love less intense yet aromatic espressos
Nespresso Capsules OriginalLine – Vivalto Lungo
The Vivalto Lungo capsules are produced by an amalgamation of South American and Ethiopian Arabica beans. This jumble integrates the full-bodied, slightly bitter, Brazilian Cerrado injunction with the aromatic, floral notes of the Ethiopian Arabica.
At an intensity level of just 4, you'll acquire a clement espresso. You will be able to make longer 3.7oz espresso since these capsules are part of the Lungo range, to be best enjoyed in a larger cup. The Vivalto Lungo mixture is roasted independently for this very purpose. It is the least intense on this list. We really love the Vivalto Lungo as well. You can scent a wide field of aromas ranging from subtle floral, woody, and sweet cereal notes.
Nespresso coffee capsule filling sealing machine You Can Choose Now
Nespresso coffee capsule filling sealing machine is used to cover coffee powder in circle capsule shape packaging.
As we know that coffee powder contains sensitivity, in the sense that if we leave this powder openly in light and air, it can affect its taste, and this will be the result of providing us with a tasteless coffee.
Just because of this reason, we used coffee capsules not just for covering the coffee powder into coffee capsules. Still, we can also save the taste of the coffee.
Aside from packing coffee powder into coffee capsules, you can also use the Nespresso coffee capsule filling sealing machine for other applications as well.
AF-RN1S NESPRESSO COFFEE CAPSULE FILLING SEALING MACHINE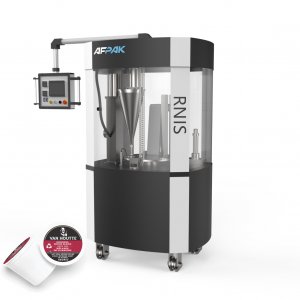 This Nespresso coffee capsule filling sealing machine only contains a single lane working, but this machine's speed is very fast as it can produce 50-70 capsules in just a minute.
The Nespresso coffee capsule filling sealing machine has the automatic filling of the delivery cup and has stable performance. It has easy conservation that you can maintain this machine very only—high and effective production efficiency.
It has the storage of standing empty capsules and dropping system, which saves labor and time as well
The components which are used in making this Nespresso coffee capsule filling sealing machine have high efficiency. Whichever material is used for its formation is appropriate in accordance with the working of the machine.
AF-H1 NESPRESSO COFFEE CAPSULE FILLING SEALING MACHINE
This Nespresso coffee capsule filling sealing machine size is very suitable. You can place it easily everywhere, even if you have no more significant space for placing the Nespresso coffee capsule filling sealing machine. You can manage it easily with less space using it.
It is a primary machine; this machine contains 1 lane and can manufacture 30 Nespresso in just a minute. Because of its simple and understandable structure, one can clearly clean this machine and efficiently repair it.
This machine has the feature of adaptability, which means it can also handle incompatible styles of capsules due to its adaptability
AF-RN120 NESPRESSO COFFEE CAPSULE FILLING SEALING MACHINE
the Nespresso coffee capsule filling sealing machine consist of 2 lanes, and these 2 lanes can produce 100-120 Nespresso in just a minute. There is 2 in 1 feature in this machine.
You can use plastic/biodegradable Nespresso as well in just one machine.
You can form the shape of the coffee capsule packages with the help of this machine.
On the other side, before filling the coffee powder into the capsules, you can also assess the amount of coffee powder or other substances.
While the machine is processing, a high electromotive force is charging.
Thus, it is not permitted for the non-specialized staff to operate, repair, or maintain the Nespresso coffee capsule filling sealing machine because of high voltage.
The moderators should instantly cut off the power supply for safety when there is something frustrating showing in the machine.
If the screen's display is not showing clearly, the moderator can use long fiber lens paper dipping with the ethanol to properly scrub the exterior of the screen.
Try to keep the working environment around the Nespresso coffee capsule filling sealing machine withered and well aired.
This machine has high accuracy and working stability.
AF-H4 NESPRESSO COFFEE CAPSULE FILLING SEALING MACHINE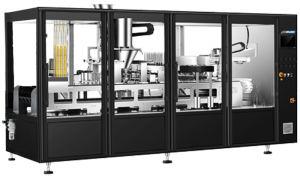 Buyers usually consider the Nespresso coffee capsule filling sealing machine's production capacity while buying any type of machine; instead, it is a coffee-producing machine or any working machine used for their business.
And this machine has four lanes. Due to this, its production capacity is also high and robust.
With the help of this machine, we can manufacture 200 Nespresso in just a minute.
The production capacity of this Nespresso coffee capsule filling sealing machine is the highest among the machines mentioned above.
Furthermore, the operating system of this Nespresso coffee capsule filling sealing machine is easy and straightforward to use.
You can learn the use of this machine very quickly.
This Nespresso coffee capsule filling sealing machine can provide you fast delivery of the final product.
Not just this, we can also attach in this machine numerous functions to expand it.
There are many machines in the industries that create so much noise around the environment where they are placed and pollution as well.
But it has the quality of low noise exhalation.
What is the Nespresso Coffee Machines?
Nespresso Coffee Machines
A huge number of machines are sold and licensed by Nespresso; they are mostly made in EUROPE.
Well-known kitchen-equipment manufacturers' names, such as Krups, Breville, and DeLonghi, are carried by these machines but are predominantly made by Eugster/Frismag.
This Swiss company is one of the world's largest coffee-machine manufacturers.
DeLonghi manufactures the Lattissima models in Italy exclusively.
Eugster/Frismag is strictly an original equipment manufacturer (OEM).
They do not sell under their own brand.
Nespresso began distributing machines bearing the "Nespresso" brand in the year 2000. from the entry-level Inissia, U, and Pixie range, There are countless models that span in complexity and price.
Process of Nespresso Coffee Machines
Nespresso's impervious covered capsules are made of aluminum.
Controlled by the Nespresso system being used, the flat top or the pointed end of the capsule is punched when inserted into the machine, and the partition lever is lowered.
There are Some machines that make a single large hole, and others make three smaller holes. It injects hot water under high pressure into injector holes poked into the narrow end of the capsule upon insertion when the machine is activated.
This causes the flat bottom of the capsule to break, as it is formed of thinner foil than the rest of the capsule.
There is a number of raised squares that cause the foil to rupture at these points—the base of the capsule holder (on which the capsule sits).
The brewed Coffee pulls out the capsule through a funnel nozzle through these rupture holes and flows into the coffee cup.
A safety pressure liberated valve inside the brewing chamber saves an explosion from occurring if the normal coffee exhaust path becomes blocked, as well as in pressure cookers.
WHY BUY A NESPRESSO MACHINE?
Nespresso machine's main features are: speed, simplicity, and comfort
Nespresso machines are fast. Easy, neat, and clean to use and very uncomplicated or manageable to use (without whistles and a ton of bells).
Moreover, with the compatibility of an espresso machine generally, they are also more affordable and space-efficient.
You are going to obtain the closest you can to a full espresso bar experience, with a Nespresso machine, and without sacrificing your whole countertop or wallet.
For Beginners Who are looking for something that will be more comfortable, easy, and reliable, these machines are an elegant selection for coffee lovers with a real and yummy taste for quality as well.
Best Nespresso Coffee Machines
1. DeLonghi Essenza Mini Espresso Machine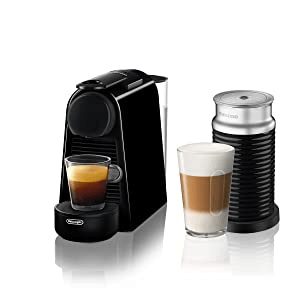 The Essenza Mini is a contemporary classic serving up an espresso machine.
This machine packs a substantial punch but immerses a minute footprint.
You just have to hit Lungo, and you're covered. If you adore espresso but often also enjoy a longer coffee
In just 30 seconds, The Essenza will be fired up and ready for action, with the water at just the suitable temperature for that perfect espresso every time.
The 19-bar pump assures that you've got all the pressure you need for those small, strong shots.
After 3 minutes of inactivity, this machine will hang up into eco mode. It will shut off completely, leaving you with no nagging worries, If left unused for 9 minutes, if you're slightly forgetful.
You'll be able to obtain from a wide range of capsules giving you all the convenience and comfort of single-serve coffee without restricting your options, As with any Nespresso machine.
You just have to Make sure you factor the cost of these pods into your budget, so you know how much you'll need to spend on a monthly basis.
It starts looking like a slightly cheaper proposition.
If it appears a little steep, offset it compatible with what you would otherwise spend at Starbucks.
For a versatile and space-saving machine finished in a commanding red, the Essenza Mini kicks like a mule.
2. Nespresso VertuoPlus Coffee and Espresso Machine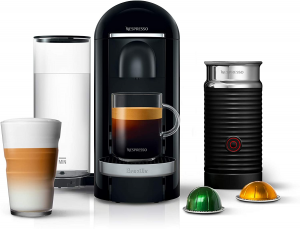 pioneering Centrifusion technology is used by This VertuoPlus machine generating a speed of 7000 RPM for the optimum extraction of the grinds that if they are accurately and completely merged with the water or not.
Selected from a 1.35oz single espresso shot right through to a 14oz alto with other options including a gran lungo and a standard coffee double shot of espresso, if you've got a large family and there everyone in the family takes their coffee separately.
So, this versatility makes this a smart choice.
You won't need to mess around to obtain that golden cup of coffee either.
Whatever capsule you choose will be brewed accordingly because the intelligent extraction system identifies the blend from the barcode well.
You'll get a welcome box of 12 pods thrown in.
If you're not sure where to get started with the Coffee, With a full 26 blends to select amongst, buying coffee just got best and easier.
3. Nespresso Original Espresso Machine
without stuffing you in terms of quality DeLonghi's version of the Original Espresso Machine will take up exceptionally little space on the kitchen counter.
What makes this neat and clean little machine so good then?
You'll enjoy a potent 19-bar pump giving you ample pressure for top-notch espresso, Despite its diminutive stature.
This machine fires up in 30 seconds flat from cold. You just need to pop in a pod.
You can get a taste for your favorite blend as You'll get a package of 12 capsules chucked in so.
You can opt for a 5ox lungo if you choose to linger over your coffee, as well as a standard 1.35oz espresso shot.
You can choose to buy the machine only.
If you roll with straight espresso, If you regularly drink longer, creamier coffee, opt for the package with the Aeroccino milk frother included.
If it's left untouched for 3 minutes, Auto shut-off keeps things covered, and the machine will limp down into eco-mode.
This mini espresso machine permits you to avoid hitting the coffee shop every day and epitomizes the convenience of single-serve, whether you've got a little apartment or a cramped kitchen.
4. Breville-Nespresso Essenza Mini Espresso Machine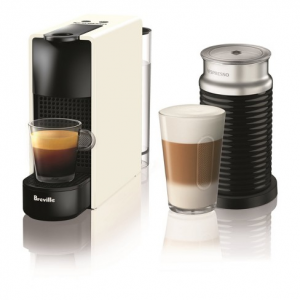 If You want high-quality coffee machines, then Breville has a hard-crafted reputation for making accessible kitchenware that doesn't force you to accommodate quality.
This Nespresso single-serve mini espresso maker continues that fine tradition.
The small unit houses a powerful 19-bar pump providing you more than enough pressure for espresso the Italians would be proud of.
It's well significant downloading the free app and joining the Nespresso Club.
You're not wasting too much time keeping on top of supplies.
These streamlines are ordering capsules.
Simple order online 24/7 whatever type of capsules attracts your fancy.
The operation couldn't be as easy.
You'll have coffee in your cup in less than 30 seconds.
You just have to choose from one of two cup sizes.
All capsules are hermetically covered and produced from recyclable aluminum.
This is a positive move due to the environmental footprint left behind by many single-serve producers.
If you're looking for the ultimate in simplicity from a brand you can rely on, while you won't be able to dial in any elements of the brewing process, without a stiff Starbucks bill for your trouble, this mini espresso maker will keep you in morning shots year-round.
5. Nespresso Inissia Espresso Machine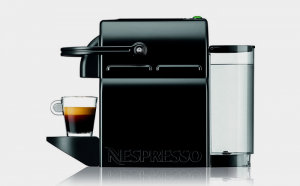 The Nespresso Inissia, now dealt at a highly attractive price-point, Bargain hunters will be delighted to spot this discontinued model.
Why Inissia?
If you're not bothered about taking on a machine that's a little long in the tooth, with a clear and simple choice straightly between espresso and lungo, this is a matter-of-fact machine placing ease over a variety of choices.
At the expense of a more limited brewing experience, Single-serve machines give you literal plug-and-play ease.
Putting and separating capsules is a cinch, and they're all encased in recyclable aluminum while you're sucking down your morning shot, so you won't have any nagging worries about your eco-footprint
The Inissia will have the water heated and ready for dispensing in 25 seconds flat.
The 19-bar pump provides ample pressure for optimum removal and, as with all Nespresso machines. Less than ideal is the super-small water tank.
If you've got a larger family, this machine doesn't make the best fit.
Another benefit of this machine, which is also its plus side, is that for accommodating teller mugs easily and perfectly, the cup tray has a nifty folding design.
Nespresso Pixie Espresso Maker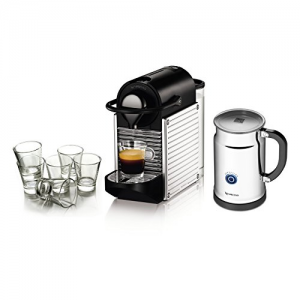 One more abandoned model, the Nespresso Pixie, nevertheless rates a mention.
You're not obsessed with getting the latest model If you're aware of what you're buying.
You can save a considerable amount for yourself.
There is a thermoblock element that ensures that water is heated quickly and efficiently.
Just within a minute, The machine will have your drink ready well. giving you faster service than the expensive coffee shop without needing to leave your home or pay the stiff bill, the water will be up to temperature in as little as 25 seconds
when you fancy a longer drink.
Programmable buttons allow you to switch between a short, strong shot and a more generous lungo.
As with all Nespresso machines, Auto power-off lets you brew with confidence and reliance.
Without encroaching too much on the countertop, this sleek unit is also compact enough to fit into your smaller kitchens, available in multiple finishes and 2 colorways.
That will be more eye-catching and attractive plus easy to use.
When the water tank needs refilling, A pair of backlights let you know that you have to fill the water tank.
To simplify ordering your capsules, we'd suggest you join the Nespresso Club. Once you're a member, place an order around-the-clock without needing to head out.
Why not roll with the magical Pixie?
For a little but powerful espresso maker conveying single-serve convenience on a budget.
7. Breville-Nespresso Creatista Coffee Espresso Machine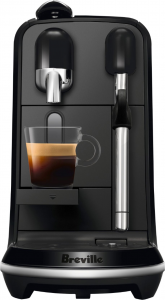 The Breville-Nespresso Creatista certainly isn't affordable, but then the best things in life rarely are.
Good news, though: act fastly, and you can choose this model up at a hostile discount.
Espresso comes out correctly, removing and providing you the kickstart to the day you crave.
To use as a base for any specialty coffees you fancy, you can also draw off longer 5oz drinks and even shorter 0.5oz ristretto.
There's an onboard milk frother, To make these.
You'll enjoy 8 texture phases, and you can eliminate the milk temperature through 11 settings giving you several flexibilities to obtain your froth just the way you love and like it.
The commanding chromed-out design means this coffee machine produces a genuine statement on the kitchen counter.
Also, despite such strong functionality, this is a fairly compact unit, so it works well in smaller kitchens.
the Creatista will give them all up with a flourish at the push of a button, whether you need a flat white, a macchiato, a skinny latte, or a straight-up espresso,
This unit is a must If you're looking for single-serve convenience without being restricted to espresso or basic coffee only.
8. DeLonghi America Lattissima Pro Original Espresso Machine with Milk Frother
When you want something lighter, The DeLonghi America Lattissima is a solid espresso manufacturer that also provides you the choice to make a mean cappuccino.
The strongly integrated pump assures you'll obtain your espresso ideally extracted each and every time.
You'll lose out in terms of customization, but you'll score when it comes to convenience and ease, Like all single-serve machines.
The milk frother does give you a little more latitude.
Fully integrated, the milk will be dispensed according to taste, so you'll enjoy more than just short, straight espresso.
You won't need to wait around either.
The Thermo block element gives you water fully up to temperature in seconds flat.
You'll benefit from an intuitive descaling function baked in.
This is just about all you need to keep on top of so your machine stays running at full clip.
You'll get a welcome pack of capsules included so you can get going right out the box.
This is a great opportunity to taste a range of different blends, so you find your favorite before investing in a box.
9. Nespresso VertuoLine Coffee and Espresso Maker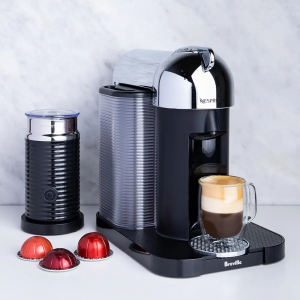 This recurrence of the Nespresso VertuoLine is now discontinued, but don't let that put you off. You can benefit from a substantial discount while still enjoying a top-notch coffee and espresso maker from an industry legend.
The lightweight and extremely portable machine take up very short space on the countertop while the representation is striking.
We kind of like the meeting point of modernism and retro with this representation, while for some, there's a little too much plastic on display.
The brewing will adjust itself with identification based on the barcodes of the capsules.
The machine will do the rest.
This means all you need to do is slide in the pod.
Patented Centrifusion technology provides you the best and even extraction with espresso when you want something lighter, so you can also opt for regular coffee
The bundled milk frother provides you the scope to build out longer, creamier drinks when you're in the mood for latte or cappuccino.
10. Nespresso Coffee and Espresso Machine Bundle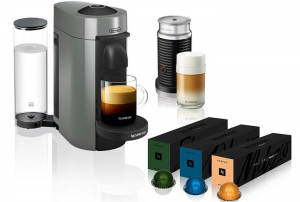 If you're inspecting to invest in a pocket-friendly model, this coffee and espresso machine bundle gives you a wide variety of the classic Aeroccino frother to jazz up your longer drinks.
You can select sizes from a 1.35oz standard espresso shot through a double shot (2.7oz), a 5oz lungo, a regular coffee (7.7oz), or a whopping 14oz alto. Perfect for those lazy summer afternoons, Drinks can also be poured over ice.
One-touch functionality manufactured serving either espresso, or straight coffee is completely foolproof.
While you might not get quite the control over the brewing process as other methods offer, you simply can't beat the convenience of a single-serve.
for a great cup of coffee without fail, Centrifusion extraction provides you 7000 RPM of pace to jumble your coffee and water perfectly
Your welcome gift consists of a pack of VertuoLine capsules.
You can decide on your jumble of choice, so This is a great way to check out the various roast profiles.
11. Nespresso by DéLonghi Lattissima Plus Espresso and Cappuccino Machine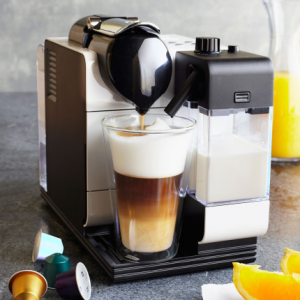 you'll obtain the requisite 19 bars of pressure and water up to temperature nigh-instantly, Packing DeLonghi's patented extraction system.
Espresso comes out faithful and well extracted. And you'll get 3 milk and 2 coffee choices providing you a pleasant menu in a single compact machine if you prefer longer coffee.
The amalgamated milk frother accommodate you impart the finishing touches to your longer drinks.
Your coffee is just a button away, and Choosing your recipes couldn't be easier. There's no trifling around and no messy clean up afterward either.
You've got all bases covered; the sliding drip tray provides you the capability to accommodate taller travel mugs.
Although this model is a powerful performer, we can't help feeling it's priced a little high considering it does nothing out of the ordinary.
Don't get us wrong, it performs its job admirably, but there are cheaper options that do the same for less.
That said, if you're looking for a decent choice of drink in a compact and durable unit, you might be taken by this thin but powerful espresso and coffee maker.
12. Nespresso Lattissima Touch Original Espresso Machine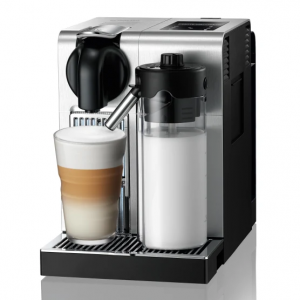 this repetition of the Lattissima is well worth your more investigation.
If you've got a more moisture budget and you're searching for a design-driven combo coffee and espresso machine,
you'll receive assistance from perfectly optimized creamy drinks at the press of a button.
With DeLonghi's cappuccino system onboard.
The foam is dense and keenly layered.
You'll get your foam just the way you like it most. For this, You can tweak milk settings.
You'll get a thermoblock heating element that brings water up to temperature nearly instantly, as with all versions of the Lattissima, so you won't be hanging around in the mornings waiting for your eye-opener.
Whether you want a straight-up espresso, a bold coffee, or a long and creamy latte, punch a button and let the Nespresso do the process.
The majesty of these machines lies in the unstoppable ease, and you'll get a great variety of blends with Nespresso capsules to fit all tastes.
This iteration – the Touch – proceed with a fully tactile display that somewhat boosts the cost but returns an excellent user experience.
You'll obtain top-tier drinks with almost no strive, so what's not to love, really? While this is certainly not a cheap espresso maker.
13. KitchenAid Nespresso Bundle
This fire hydrant red model from KitchenAid is just the ticket for you if you're searching for a bright and commanding Nespresso machine that will dominate the kitchen in terms of representation.
You'll obtain a die-cast metal formed with the KitchenAid, where some of the cheaper Nespresso machines have a preponderance of plastic.
Which provides you an amazingly heavyweight feel. The creation all feels tremendously tight.
The cup shelf originates from accommodating large cups or small shots, and it folds away for a cleaner finish.
This specific iteration proceeds with an excellent milk frother bundled so you'll be capable of making far more than just espresso.
Layer in some wonderfully dense foam and create lattes and macchiatos to your heart's content.
You'll be capable of removing it for ease of refilling and cleaning. The generous water reservoir will give you enough to obtain the complete family caffeinated in the morning
Running on a choice of 22 Grand Crus – Nespresso's name for blends – and coming with 6 pre-programmed strength settings, with almost no user-input required, you'll be capable of obtaining your coffee just the way you like it.
What are Nespresso coffee capsules and pods?
A coffee capsule is a small covered container made up of plastic or aluminum.
0n the Inside, there is a certain part of ground coffee to produce the perfect drink.
Nespresso has two lines of capsule machines and capsules for them: Original and Vertuo.
Capsules are distinguished by mixtures, roasting methods, capacity, and strength, taste, and size.
A Brief History of the Nespresso Pod System
in the past, although many Americans have come up against capsule-shaped coffee machines.
More than ten years earlier than Keurig, Perhaps the Keurig system, Nespresso first introduced this concept.
The Nespresso capsule system began in the mid-1970s when Eric Favre, a Swiss engineer operating in the Nestle packaging department, said his country recognized nothing about making coffee.
If he'd never had the guide to solve this problem, there is a high chance that none of us would obtain the pleasure and ease of consuming capsule machines with one portion.
Since 1975, Farv consumed months scouring Rome to search for the perfect espresso, which he formed to be served in the always-busy Sant Estacio cafe.
He learned as much about the procedure of producing Sant'Eustachio coffee by Using his Italian wife as a spy.
He realized that constant aeration when water was pumped into the ground was part of the process of making the perfect coffee. He believed this was the main aspect accountable for creating an excellent aroma and lots of creams.
Instantly after this, he proceeded to create a prototype machine that would make maximum aeration during cooking.
In the beginning, Nespresso executives in Switzerland had little or no interest in the idea of home espresso.
Their instant coffee business prospered, and they did not see the demand to invest in product development that, in their opinion, did not interest the public.
Fortunately, for a short job in 1983, Farve was sent to Nescafe in Japan, and he stood up to try pitching his idea with a capsule made coffee to the CEO.
Far from the Swiss leaders, the Japanese saw unbelievable results, and by 1986 Nespresso was born.
The first coffee machine with pods was introduced.
a home worktop machine has become one of Nestle's main sources of revenue, with annual sales of more than $ 4 billion, More than 30 years later
Benefits of Capsule Coffee
The key benefits of capsule-type coffee are mentioned below:
Great taste
The covered-container keeps the taste features of capsular coffee and does not permit the raw materials to weather.
Thanks to this, the taste comes out more drench and interesting than that of a conventional can.
Rich aroma
The purpose is the same – the tight packing of the capsules. Its aroma will be the same as the capsule packaged 1 week ago, even if you make capsule coffee after 2 years of storage.
Exact dosage
Each capsule is an absolute serving presentation for the exact amount of water.
The package usually consists of 0.3oz of raw materials – ideal for an espresso cup If it is espresso.
If one were to make coffee manually, they could make it too powerful or, conversely, insufficiently drenched.
Such a difficulty does not exist, With capsules.
Brewing speed
Moreover, the capsule coffee machine creates the drink in no longer than 30-40 seconds.
It saves about 2-3 minutes of pure time If you compare it with an ordinary carob coffee maker.
This is very advantageous in the morning when a person is in a hurry to work, and it's just easier and more comfortable.
Ease of use
The capsule machine does not require to be washed, and many models even remove consumed capsules on their own.
And furthermore, their operation is much easier than conventional carob coffee makers.
The Best Nespresso Capsules
Consequently, you might discover it hard to select only the best Nespresso compatible capsules from the crowded market, and this is where we come into play.
We have given you a buyer's guide to help you out. Here they are:
Nespresso Capsules OriginalLine Fortissio Lungo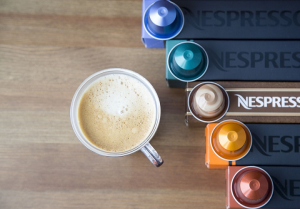 Compliment as a bad choice for lattes, the fortissimo lungo capsules brew 3.7-ounce cups of coffee.
It has an intensity rating of eight out of 13.
The taste is explained as rich, malty, and toasty with a hint of acidity and a smooth texture.
The coffee is created from Monsooned Malabar Arabica beans from southwest India across with washed Columbian Arabica beans that provide an extremely intense, rich flavor.
Without tasting overly roasted, Both beans are split roasted, giving the coffee a great body along with a rich taste.
This order consists of five boxes with 10 capsules each; if this variety becomes your favorite, you can also opt for a wider quantity.
These capsules are not appropriate with Nespresso Vertuoline machines.
Nespresso Capsules Original Line Ispirazione Firenze Arpeggio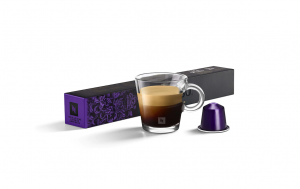 If your favorite coffee is a classic Americano, give Arpeggio capsules a try, this can be used for either .85 or 1.35-ounce cups.
With an intensity rating of nine. It is manufactured by a mix of Central American and South American Arabica coffee beans that have been powerfully roasted to produce fruity and malted flavor profiles.
With cocoa notes and some woodiness as well, the flavor of the coffee is narrated as intense and grilled.
You can order in enormous quantities if you prefer.
Normally, the order comes with five boxes with 10 capsules each.
These capsules are not adjustable with Nespresso Vertuoline machines.
Nespresso Ispirazione Italiana Venezia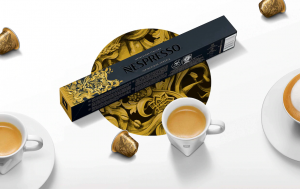 This mixture of Brazilian and Colombian Arabica beans is accurate for a cappuccino, latte, or any milk-based coffee drink, frothed or not.
Tasting notes include caramel and cereal, as well as a light fruitiness.
With an intensity rating of eight, this capsule gives just enough coffee flavor when mixed with milk but won't overpower the sweeter elements that make for a great cappuccino, like cinnamon, brown sugar, etc.
Nespresso even uses the Ispirazione Venezia capsule to create a special tiramisu cappuccino—a recipe found on the company's website.
It comes at the same cost point and can be ordered in any wanted quantity off the brand website.
Venezia capsule is reasonably new to the Nespresso line and isn't as readily available as other varieties.
Note that these capsules are not adjustable with Nespresso VertuoLine machines, only OriginalLine.
Nespresso OriginalLine Ispirazione Espresso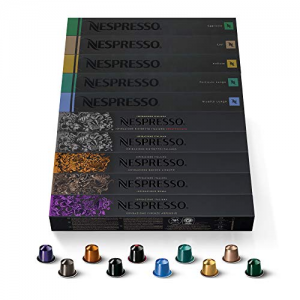 a wide range pack lets you sample different espresso varieties without committing to one of them If you haven't yet picked a favorite Nespresso capsule.
Who can choose different coffees to suit their own preferences?
Is it also best for those guests?
This pack was ordered with a total of 100 capsules, with 10 of each type of coffee.
The varieties include Capriccio, Fortissio Lungo, Roma, Vivalto Lungo, Volluto, Cosi, Firenze Arpeggio, Ristretto, Ristretto Decaf, and Livanto.
Each capsule brews a 1.35-ounce cup of coffee.
And The intensity ratings in this group range from four to 10,
These capsules are not adjustable with Nespresso Vertuoline machines.
Bestpresso Coffee for Nespresso Original Machine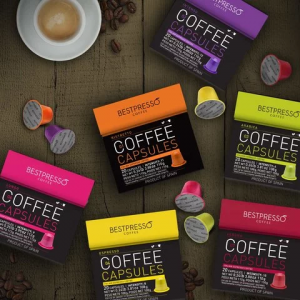 These Nespresso-compatible pods by Bestpresso can rescue you some money if you love your Nespresso machine but desire the capsules were just a little less expensive.
This kit proceeds with 120 pods, with 20 of each choice.
They are certified kosher, have no germicide or sweet taste, and the capsules are recyclable when you're done producing coffee.
The included options are Ristretto, Intenso, Arabica, Espresso, Lungo, and Verona, with intensity ratings ranging from six to 12.
These capsules are not adjustable with Nespresso Vertuoline machines.
Nespresso Capsules VertuoLine Variety Pack
This variety pack will give you three different types of coffee to sample and savor.
If you've bought one of the newer Vertuo machines.
For a total of 30 capsules, the pack consists of 10 capsules of each variety, so you'll have sufficient for about a month of coffee.
The first variety is Stormio, which is created by Guatemalan washed Arabica beans and Nicaraguan Arabica beans and has an intensity rating of eight.
The second kind is Odacio.
Its taste is narrated as full-bodied with a little fruitiness.
This is created from roasted Central American Arabica beans and gently roasted east African Arabica beans, with an intensity rating of seven.
The third kind is Melozio, resulting in an intensity of six created from Central American Arabica beans and Brazilian Bourbon coffee beans.
The beans are split roasted, which gives them sweet cereal notes and a glassy texture with sweet notes of honey.
These capsules are only appropriate with Vertuoline machines and will not proceed with the original machines.
Nespresso Ispirazione Italiana Napoli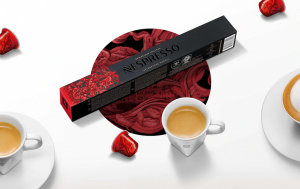 With an intensity rating of 13 out of 13, A praise to one of the most storied coffee cities in the world, Nespresso's Napoli capsules are the pitch black that the company makes.
This jumble consists of coffee beans sourced mainly from Uganda and a smidge from South America.
The lasting flavor is extremely bold, and the shot itself is super rich in body.
Almost like eating dark chocolate, Brace yourself for the appetizing bitter aftertaste.
The Napoli capsules are best to wake you up in the morning with a punch of caffeine or provide a taste of late-night sinfulness.
Keep in mind that these capsules are only appropriate with OriginalLine machines.
Nespresso VertuoLine Voltesso
It may be moderately counter instinctive, but light roast coffee often offers more intricate and layered taste profiles than dark roast coffee. (as We're all well-known with an overly smoky dark roast that blocks out any other taste.)
This light roast is broadly famous precisely because it qualities a distinctive jumble of tasting notes.
On the one hand, you obtain hints of creamy biscuit and, on the other, a precise sweetness.
Nespresso provides the Voltesso with a strength rating of four out of 13, and the beans are derived from Brazil and Colombia.
The considerate coziness of these capsules is by itself but also perfect for latte lovers.
Nespresso Capsules Original Line Ispirazione Ristretto Decaffeinato Italiano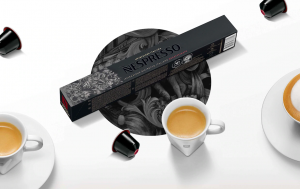 Nespresso has you covered with these Ristretto Decaffeinato capsules, If you like coffee, but you're cutting back on caffeine.
With a strong rating of 10, the tasting notes include strong roasted notes and hints of chocolate, thanks to the mix of Arabica and Robusta beans.
Each capsule produces .8-ounce or 1.35-ounce cups.
The coffee in these capsules is produced from Latin American and East African Arabica beans jumbled with Robusta.
The beans are all steadily roasted for fruity and acidic notes, at last in an Italian-style coffee that's rich and full.
These capsules are not appropriate with Nespresso Vertuoline machines.
You'll obtain three boxes with 10 capsules each.
Best Flavored: Gourmesso 50 Fairtrade Flavored Espresso Capsules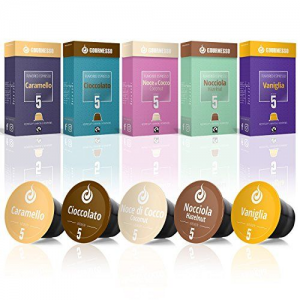 Sometimes you want just a little something additional, but coffee has considerable flavor on its own.
These capsules provide you additional flavor without resorting to sweet syrup or tastes of coffee creamer, and you can attempt a new taste every weekday with these capsules from Gourmesso.
With five boxes of ten pods of each taste for a total of 50 capsules, you'll obtain a generous quantity of capsules.
This consists of Carmello (caramel), Cioccolato (chocolate), Nocciola (hazelnut), Vaniglia (vanilla), and Noce di Coco (coconut).
All tastes have an accordingly low-intensity rating of five.
These capsules are not appropriate with Nespresso Vertuoline machines.
CREATE NESPRESSO THE BEST TASTING COFFEE CAPSULES
Step 1: Harvesting
Most of the beans used for Nespresso coffee are harvested by hand to assure only the high quality creates it for the coffee pods.
Before packing and shipping, The Nespresso harvesting team also directs taste checks at the origin.
This testing ensures only the cleanest, neat coffee is picked.
Step 2: Blending
When the coffee is with other coffee origins, it complements and strengthens one another.
Two main commercial coffee species are used by Nespresso: Arabica and Robusta.
Arabica has the cleanest acidity, clarity, and smoothness, while Robusta adds body and texture.
Step 3: Roasting and Grinding
Roasting and grinding extract the full taste of each unique blend.
Each coffee has its own particular roasting procedure, which is tailored to make an individual finish and taste.
Step 4: Encapsulation
The coffee is sealed into an aluminum, after grinding, the capsule covering ground coffee from contact with the air, light, and moisture.
Nespresso's encapsulation procedure assures freshness of the coffee's taste and aromas for up to one year.
Pros of NESPRESSO COFFEE PODS?
Simple to usePut the capsule into the machine, choose your drink type, thumb the button, and it's as simple as that.
Minimal wastage
For your drink, each capsule from the Nespresso range is accurately measured with the perfect amount of ground coffee.
This lesson wastage and means you will constantly pour a delicious espresso shot every time.
3. Easy to recycle
Nespresso coffee pods consume Aluminium casing because it is a naturally-occurring and is infinitely recyclable.
you can recycle your consumed aluminum coffee capsules in Australia for this Nespresso gives three easy ways:
Give back your consumed aluminum capsules to a Nespresso Boutique or one of over 300 participating cluster points. You can find your nearest collection point.
Participate in one of our bulk recycling cluster initiatives where workplaces or community locations can become a recycling point. You can Discover the program.
Post your consumed capsules back to Nespresso, operating a special Australia Post satchel. You can Order your Nespresso recycling bag.
FLAVOURS
Relish your classic Espresso experience with the wide varieties of Nespresso's Original coffee range.
Relish with or without milk, From a milder fruity espresso to the Neapolitan style short Ristretto.
Nespresso's Vertuo coffee range gives a one-of-a-kind sensory coffee experience that amalgamates a smooth flavor, full-body, and rich crema.
Selecting from five different sizes, from Espresso to Alto (our biggest cup), there is a Vertuo pod to fit every mood.
Nespresso's Original and Vertuo Coffee is driven by some of the best coffee producing regions from across the world.
This includes Colombia, Brazil, Guatemala, Ethiopia, Costa Rica, Kenya, India, Indonesia, and Mexico.
Best Nespresso Coffee Pods
Vanizio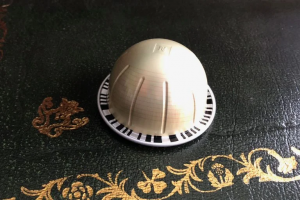 The vanilla's flavor produces a velvety layer of flavor to roundness found in this glossy and balanced jumble.
Vanilla is the best taste to put into almost everything. It can transform dishes when it is used separately.
Vanilla guaranteed its versatility once again when used in the Vanizio pods.
As with the other tastes, Nespresso has used vanilla separately, adding a subtle elegance to the coffee that makes it glossy and simple to drink and increases the Brazilian and Central American Arabic jumble's slight bitterness.
Vizio is the best choice when you want something smooth but not overpowering, Less pronounced than the Caramelizio or Hazelino,
Vanilla Custard Pie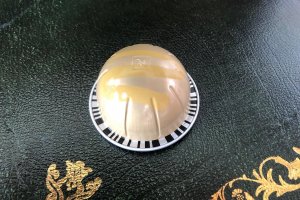 Classic vanilla notes in cooperation with subtle hints of almond and butter biscuit laced by this glossy and velvety taste Coffee.
Although the name conjures up the belief of a rich and indulgent coffee, the result is, thankfully, far more subtle.
With just the right amount of vanilla added, the Vanilla Custard Pie has a delicate aroma to it.
Nespresso has used split-roasted beans for this creation, with a mixture of medium-dark Brazilian beans and Ethiopian beans added in the second split.
The Brazilian beans add a touch of sweetness, with the Ethiopian beans added texture and body.
More than the original Vanizio capsule (discontinued), Nespresso has got the balance right on this one.
There's definitely sweetness to it, but it's complemented and balanced by the warmth and fuller-bodied hit of coffee.
Flavors pleasantly mix, with the initial vanilla giving way to a delicate almond taste.
This is a great selection if you like a slightly different coffee with more subtle additions than the hazelnut or caramel pods.
Hazilino Muffin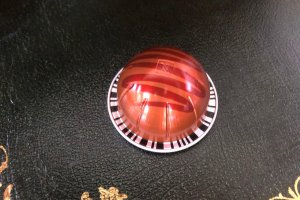 Notes of biscuit and almond accommodate the distinct hazelnut flavor in this Vertuo Coffee.
The old hazelnut coffee was one of my favorites, and I'm eager to say that the Hazilino Muffin is just as good, if not a touch better.
Avoiding the trap of overpowering, Rich, and nutty, this capsule will enhance your kitchen with a sweet smell while brewing.
Yet, the taste is that bit more subtle and complex.
As with the other Barista Productions, Nespresso has consumed a split roast of medium dark Brazilian beans, with Ethiopian coffee in the second split.
Your nose leads you, with the pleasant smells and hazelnut smell emanating first.
On the first sip, you're hit by that hazelnut taste, which is warmer and slightly more bitter than the sweeter taste of the Vanilla and Caramel collection.
As you savor the coffee, the profile expands and pulls you with a gentle almond taste, perfectly complementing the glossy coffee that serves as the base.
It's an amazing cup of coffee while retaining the earthy body and underlying smoothness of the coffee, with the Hazelnut addition that is a bit more interesting and something a bit special,
Giornio
Expresses toasted cereal tones, followed by subtle white floral notes characteristic of Ethiopian Arabica.
A blend of Ethiopian and Kenyan Arabica, Nespresso has used a split roast for the Giornio.
The Ethiopian Coffee has a lighter roast, protecting its origin flavors; the Kenyan beans have a darker roast for a more intense and bitter flavor.
Even so, as the Intensity rating of 4 hints, this is a very mellow and gentle coffee.
The floral and cereal tones are present throughout, with the Kenyan Coffee adding a bit of a kick. It is a very subtle and quite weak coffee, and those looking for a bit more flavor should look elsewhere.
Elvazio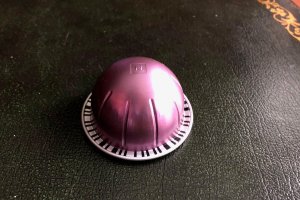 A fragrant blend of fine Arabica coffee beans from South America, lightly roasted to release abundant flavors.
A very light coffee, the Elvazio uses a combination of Colombian and Brazilian Bourbon beans.
Each is roasted separately to preserve the origin flavors.
A very smooth blend, there's a light fruitiness to this drink, with a sweeter aftertaste than you get with most coffees.
The Elvazio is more refreshing than many coffees, although it lacks a bit of punch.
Intenso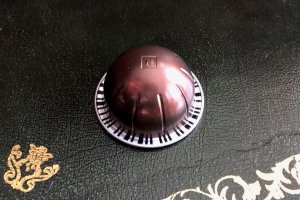 Brown sugar and strongly toasted notes bring a singular signature to this dark roasted coffee.
There's no messing around with the naming convention on this coffee. Intenso is exactly what you expect from a coffee rated 9 on Nespresso's intensity scale: bold, dark, and strong.
The blend uses Guatemalan washed Robusta, long roasted to gain intensity, and Mexican and Latin American Arabicas dark roasted shorter to decrease acidity and enhance brown sugar notes.
The strong bitterness of the coffee coming through on the first sip. A burnished sugar taste dominates, with a pleasant and lingering aftertaste.
If you're after bold and strong-tasting coffee, the Intenso delivers, but it lacks subtlety and the more interesting flavors of some of the other blends, such as the Stormio.
Stormio
Dark and long roasted, the Stormio is the intense coffee that its name conjures up.
The blend consists of Guatemalan washed Arabica, with Nicaraguan beans for the strong and distinct flavor, for the cereal notes.
The woody, earthy taste comes through on the first sip, with an intense but not overpowering hit.
Given the intensity of the coffee, this blend doesn't have an overly bitter aftertaste either, making this a far smoother coffee than you may first expect; there's just a hint of bitterness that lingers, as you'd expect from a darker roast.
A decent choice for those that like darker roasts but like some individual flavor in there.
Arondio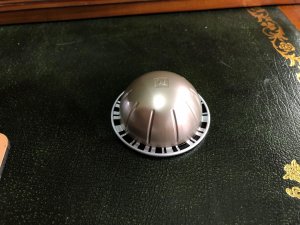 The mid-intensity capsules are usually a good mix for Nespresso: bold enough to have a lot of flavors; mellow enough not to be overpowering or strong.
And so it is with the Arondio, which has an interesting combination of flavors.
Using Colombian Arabica, which brings the cereal and mild notes, and a touch of Guatemalan Robusta, which accentuates the intensity, Arondio is an interesting blend.
On the nose, the coffee has a lighter, almost sweet note to it, mixing with the bolder cereal tones.
Drinking it, there's a refreshing, fruity vibe, backed up by the bolder cereal notes.
A touch of acidity and just a hint of bitterness rounds this mixture off.
Aflorazio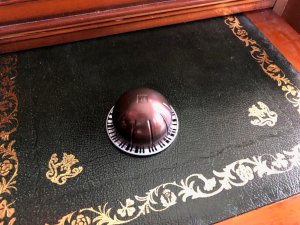 A very aromatic coffee, the brewing process of the Alforazio will fill your home with this refined and delicate blend.
Nespresso has used a mix of unwashed Ethiopian Arabicas, light and medium roasted for the wilder notes, and East African Arabicas, long roasted to bring out the blueberry notes.
It's an interesting mix.
On the first sip, you get the musky, earthy tones coming in, leaving behind fresher, lighter, blueberry notes.
A crisp finish with just a hint of bitterness is refreshing and full.
Aflorazio is a great coffee for when you want something lighter but with a lot of flavors.
Fortado
Bitter cocoa powder notes and the oak wood hints reinforce the richness of this coffee
Fortado uses a blend of dark roasted India Robusta and medium-roasted South and Central American Arabicas.
Robusta's overall darkness is more overpowering and gives the Fortado its intensity rating and full-bodied fragrance.
There's a hint of sweetness from the cocoa powder notes, too.
It's not the most subtle coffee, with the darker Robusta adding strength and deeper tones to the drink.
The cocoa notes come through slightly, although they're quite subtle.
With a slight bitterness to the Fortado, it's not our favorite blend.
Swapping subtlety for more impact, the Fortado is a good choice for those that want a strong-tasting coffee.
Still, the subtle Arondio is a better blend by far.
Master Origin Columbia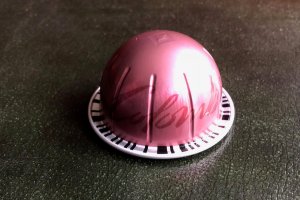 A smooth and gentle coffee, the light roast of the Master Origin Columbia maybe a little subtle for some taste buds.
For those that like subtlety, there's a lot to like here.
As the tasting notes say, there's a sweetness to this cup, with red berry coming through like a good wine.
A gentle cup of coffee for a morning or slow afternoon, the delicate taste of this coffee means that it's not overpowering.
Master Origin Mexico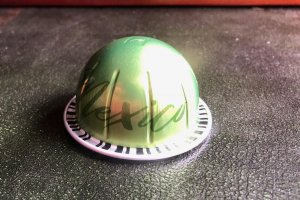 The Master Origin Mexico uses a blend of hand-picked Arabica and double-washed Robusta.
The selection of coffees gives the final brew an interesting and stronger taste.
A woody and earthy taste comes through at first, with a slight hint of bitterness.
A more subtle and delicate aftertaste lingers.
If you're not usually a fan of darker roasts, the more subtle flavors of this quite intense coffee could appeal to you.
Conclusion:
We've decided that all Nespresso machines make similar drinks after making and sampling over 100 espressos, lungos, latte macchiatos, and cappuccinos.
We don't like Nespresso's taste, but a Nespresso machine is the easiest and most convenient way to make anything like them at home for those who prefer espresso drinks to drip coffee.
However, we suggest these beginner setups instead if you want to make real at-home espresso.
We like the Nespresso Essenza Mini compact because it produces.
Nespresso's real appeal is its simplicity, velocity, and consistency.
The machines are alluringly easy to use, requiring nothing more from you than a capsule placement and a button press.
In a matter of minutes, they produce a hot espresso-like beverage.
And for durability, they can't be defeated.
The system produces the same quality drink every single time, no matter the model.
By pushing hot water into a small single-use aluminum capsule filled with finely ground beans, a Nespresso machine brews coffee beverages.
The outcome resembles an espresso: a solid coffee shot with a foam cap.
Nespresso, however, is not the kind of espresso that you would find in a coffee shop.
While a coffee similarly produces espresso, the resulting drink should have a smoother, syrupy body by pushing hot water through a compact clump of the ground at high pressure.
As Michael Hession, head of photography and video (and coffee nerd) at Wirecutter, explained years ago in a Gizmodo post, a good espresso should be centered, rich, and sweet, not bitter or sour.
A Nespresso machine comes somewhat similar, creating a thin, concentrated coffee shot that sticks and stays with a high crown of crema (the aromatic froth produced by air bubbles mixed with soluble coffee oils).