RN1S Coffee Capsule Filling and Sealing Machine Simple, reliable and robust packaging solution for coffee capsules
The coffee capsule filling and sealing machine is specially designed to fill and seal the coffee capsules like Nespresso, K cups, Lavazza capsules, dolce gusto capsules, etc with fast changeover and easy production of multiple cups on one machine
Top-quality electrical components with solid mechanical structure, giving you a more reliable production experience.
It is fully automatic with features of high stability, high filling accuracy, beautiful and tight seal, strong nitrogen gas protection.
It's small and lightweight, so you can move it around.
Looking for a more efficient way of filling and sealing your own coffee capsules?
If you are planning to create your own line of coffee capsules, manually filling empty capsules with coffee is not the best way to start.
You need to make sure that each pod is perfectly filled and sealed to ensure the long-lasting freshness and quality of the contents.
To kickstart your coffee capsule-making business, a reliable coffee capsule filling and sealing machine will do the trick.
Dish out thousands of sealed coffee pods per hour with the AFPAK RN1S Rotary Type Coffee Capsule Filling and Sealing Machine.
– Fills and seals 50 to 70 capsules per minute
– Precise, high-speed filling
– + or –0.2g filling accuracy
– Beautiful and strong sealing
– No need to manually hand-feed coffee granules
– Automatically picks up and places empty Nespresso/K-cups/Lavazza capsules/other capsules
– 24 Hours running without stop.
– One Operator is enough to run
– Single-phase 220V Voltage, can use in any places
– East to move, it has rollers on the bottom
– No need for special maintenance.
The new AF-RN1S high-performance filling and sealing machine from AFPAK can be used to fill, seal, and assemble prefabricated containers.
The AF-RN1S has been designed for low noise emissions, allows easy access to its components, and meets the highest standards set for process hygiene.
It guarantees the highest process integrity thanks to the construction of standardized replicate components as well as uncompromised safety for people in contact with the machine.
The RN1S rotary-type machine coffee capsule filling and sealing machine working video:
Need more time to make a decision? Here are more reasons to grab our coffee capsule filling machine:
– The machine stops when no lids or capsules are detected
– Cleans capsule edge after sealing
– Ready for daily use
– CE certificate
– Compact size
Main specifications of RN1S coffee capsule filling and sealing machine
| | |
| --- | --- |
| Model | RN1S |
| Suit to produce | Aluminum/Biodegradable/plastic Nespresso capsules; welded/separated k cups.Lavazza blue/ a modo mio ;Dolce Gusto without inner seal |
| Filling weight | 1-20 grams adjustable |
| Number of lanes | 1 |
| Cycles per minute | 50-70 |
| Output containers/min | 50-70 |
| Voltage | 1 X 220V /50HZ |
| Operating power | Approx. 2.5KW |
| Nitrogen | 5 Nm3/h 30L/min |
| Compressed air | 7 Kw/10HP/1.08Nm3/min Air compressor 100L/min |
| Dimensions | L 1960 * W1000 * H 2200 mm |
| Weight | 750KGS |
Fill and seal more coffee pods in less time. Completely upgrade your production plant, your production will be more intelligent and unmanned, and your products will have higher quality and better appearance
AFPAK also offers empty Nespresso pods, Empty K cups with filter welded, sealing lids, Equipment required for use with RN1S, etc. One-stop solution, only AFPAK
Try the AFPAK RN1S Rotary Type Coffee Capsule Filling and Sealing Machine now!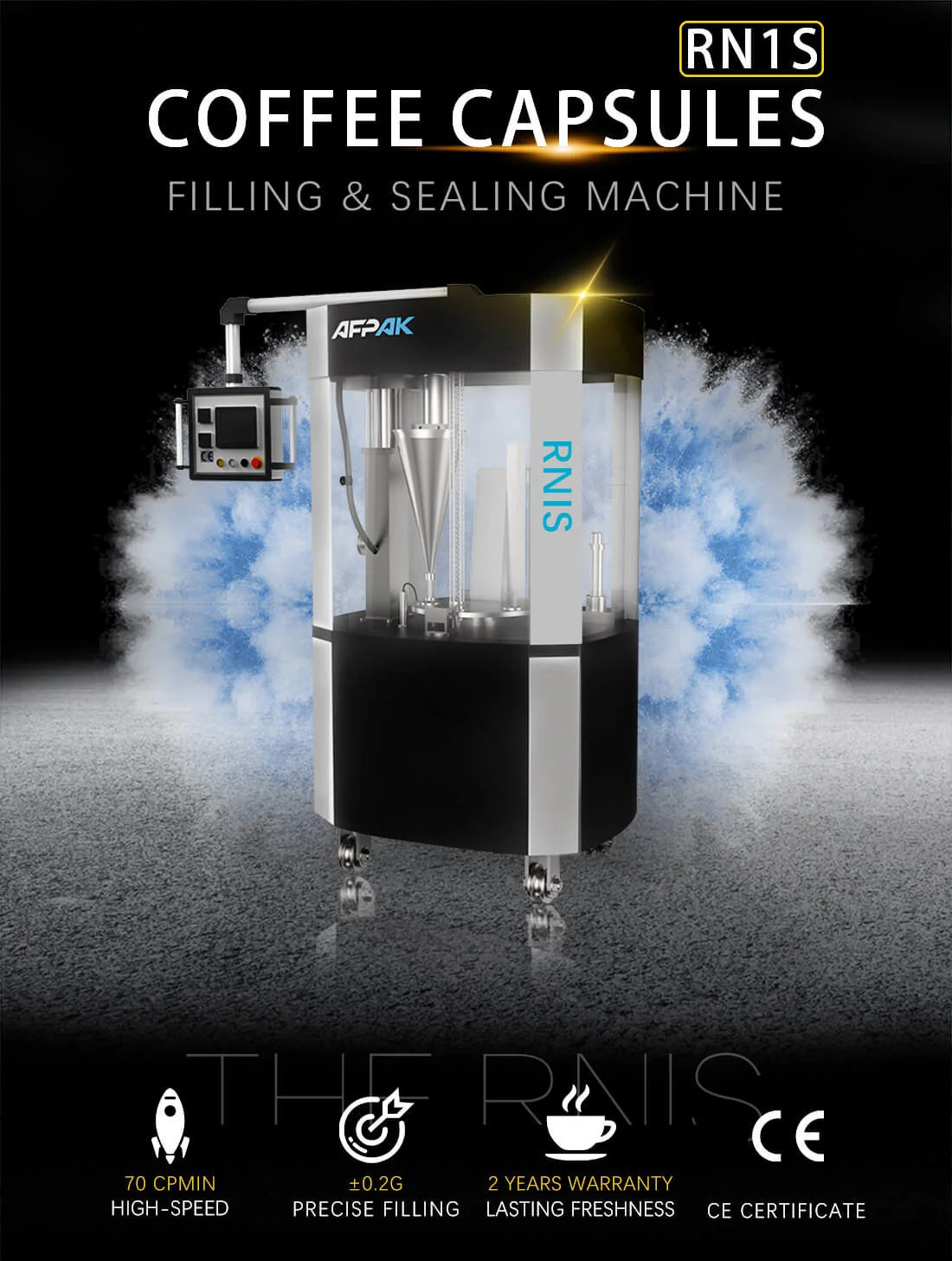 How to use: Operating the RN1S Coffee capsule filling and sealing machine in automatic mode
The machine will normally operate in the AUTOMATIC mode without any need for the operator to adjust any parameters.
It is important that the machine is clear from all capsules before starting the machine.
Turn on the machine and wait until it reaches temperature on the front Control Panels
Make sure that Air Pressure is correct.
Open the Nitrogen infusion.
Turn on the Vacuum Feeder
Load Ground coffee
Load empty capsules into the capsule hopper
Place the machine into AUTOMATIC MODE
Press the GREEN button 'C' AUTOMATIC on the control panel
Press the RED button 'D' to stop the machine at any time.
Categories: coffee capsule filling sealing, K cups packing solutions, Nespresso coffee capsules packing solutions